Finished another semester of school. It was more involved than before, so I've been pretty busy. Here's some assignment pieces: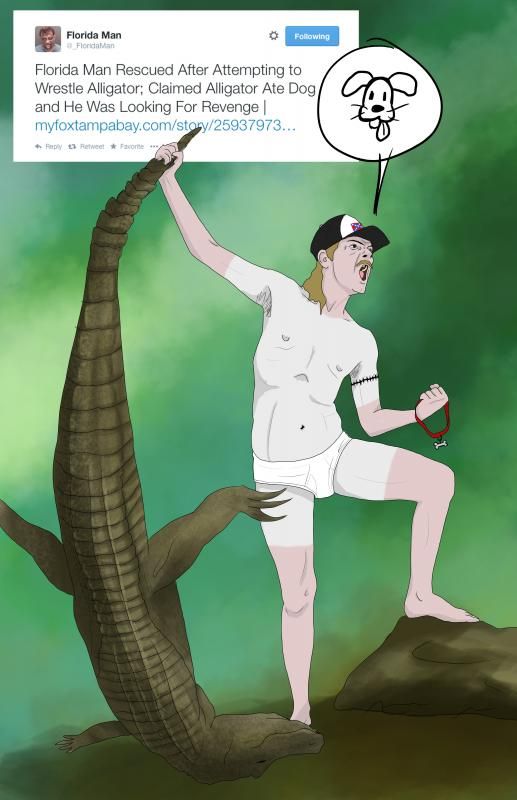 ASSIGNMENT: Do an editorial piece. I picked some random
@FloridaMan
tweets.
ASSIGNMENT: Illustrate a song. I tried to run Lana Del Rey's Kill Kill through the Cannibal Corpse filter.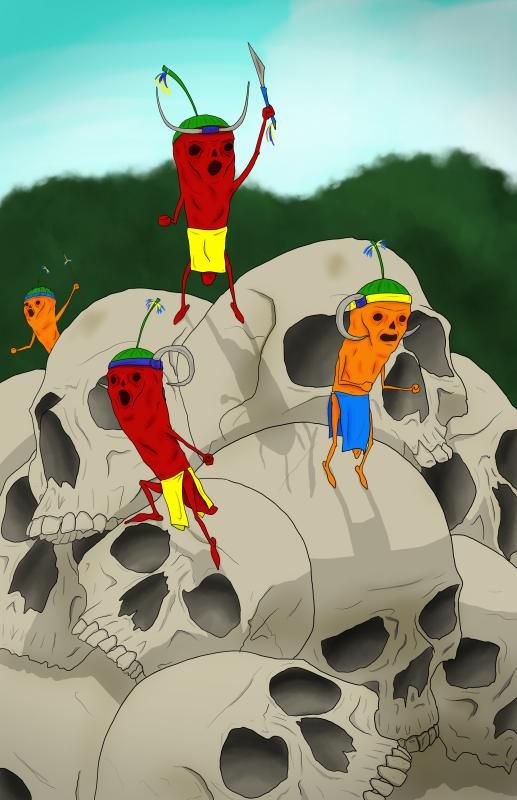 ASSIGNMENT: Research and illustrate a food. I picked ghost peppers.
I also did some comic work for the class, but I can't show that off yet because reasons.
So that was this semester. It's over now, so I've got about a month to work on my shit uninterrupted until it starts back up next semester. Enough about that. Here's some news:
I will be at C2E2 2015
YEAR FOUR BABY! Here's a poster:
I just got the email yesterday. I've probably said it before, but I cannot stress how much I love C2E2. Every year somehow manages to top the last. For this show I suspect I'll be driven into a savage murderous frenzy, tearing limbs indiscriminately from the torsos of passersby, eyes bloody and glazed, mouth frothing with pure unfiltered joy...
This show makes me happy, and I go on psychotic murder fits when I get too happy is what I'm trying to say here. I won't get the map or my table number for a while, but I'll post it when I get it.
Progress Report
Nowhere #1 has been done for a while, it just hasn't debuted at a show yet because of unfortunate printer timing. But it will be at my next appearance (DanCon 2015). I've only got a few more pages left to draw for Nowhere #2. (I should be done with it already but blah blah school excuses blah blah). I hate absolutes, but I'm pretty sure it'll be done by then as well. So that's something, yeah? Next time I wander out into public I'll have at least two new books available. I may have a third, not-Nowhere book as well, but I can't talk about that yet.
Danger happened
Remember that poster I did for the Nakama Toys / Kaiju Big Battel show a while back? Well, they filmed that show and, using forbidden arcane technology, put it on a DVD! And what's on the cover of that DVD? My poster art!
I remember when I was a kid and adults would ask what I wanted to do with my life. I'd always respond, "I want to do the cover art for a Kaiju Big Battel DVD." and the adults would freak out and call me a vessel of Satan because it was the '80's and neither Kaiju Big Battel nor DVDs had been invented yet. So I can cross off one more thing from my childhood dream list:
beat Ninja Gaiden for the NES
do a KBB DVD cover
touch a boobie
become Egon from Ghostbusters
You can get the poster here.
You can get the DVD here.
I think that's everything for now.
-jsb