Tomorrow starts the last week of what has become to be the most involved semester of my academic career. So involved that my personal projects have ground do a standstill. To correct this, I've created something of a "Summer Bucket List" of projects to complete and goals to meet before class starts back up in September. So you can look forward to a bunch of stuff coming down the pipeline in the near future. Moving on...
I don't know how it's possible, but C2E2 gets better every year. I found myself just laughing and responding "This fucking show man." anytime someone asked how the show was going for me. It's genuinely surprising how good that show is and how well-received my work is there. Even though I had ordered extra stock, I was legitimately starting to worry that I was going to sell out of books and spend the last day of the show with an empty book rack. I guess that's a good problem to have, but yeah, supplies started running pretty thin.
During the second day of the show I was invited to pop by the Comixology booth to talk a bit about IT LOOKS BACK and horror in general for their podcast. I hope it went well, I tend to be nervous and terrible at spoken interviews, but it hasn't been put online yet. When it does go up, I'll link to it here so long as I'm not completely embarrassed by it. In the meantime, here's a 'preview' podcast:
So yeah, best convention ever; can't wait until next year. Looking ahead, I'll be at
Motor City Comic Con
this weekend. I can't remember if I've posted it or not already, but here's a poster: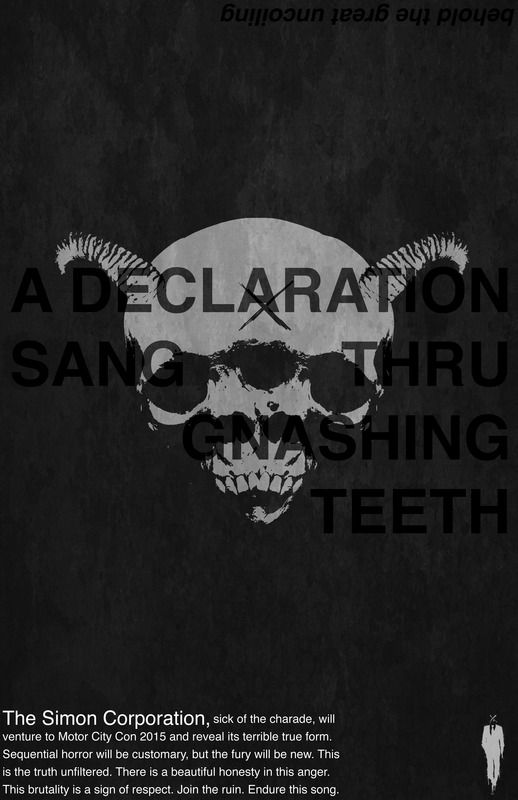 If you're not there already, get your ass to Michigan. I'll be sharing a table with
Patrick Trahey
and randomly screaming Limp Bizkit lyrics.
I think that's everything for now. I do have a bit of a surprise for you, and you'll get to see it as soon as I return from destroying the Great Lakes State.
-jsb