Couldn't think of a proper title for this post so I just smacked the keys indiscriminately for a second. That should suffice.
Here's a picture of Rod Sterling what I made one night: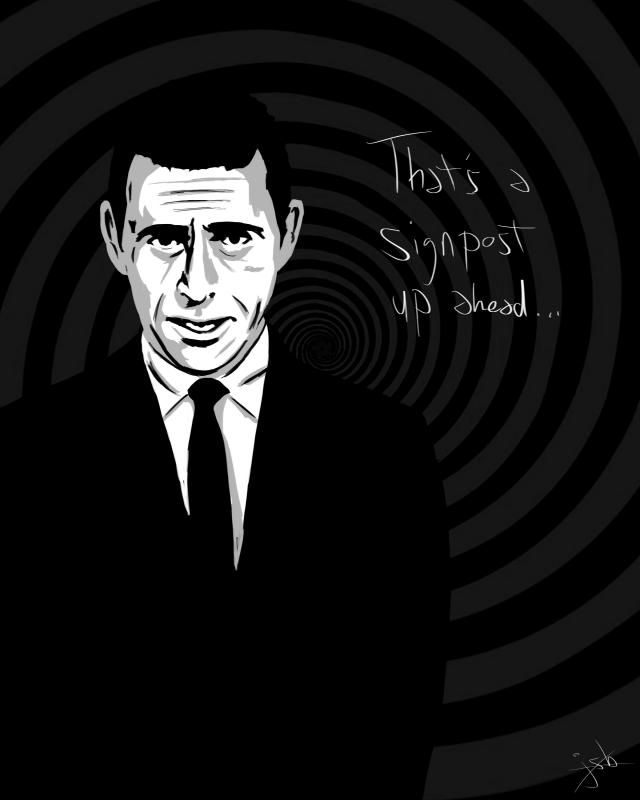 This started off as me just messing around and then it became a thing. I'm debating whether or not to make it available as a print. Moving on...
Nowhere #1 is drawn, lettered, proofread, and sent off to the printer.
um...that's about it actually. I probably shouldn't have put all the details in the headline. As usual, I just ordered a single proof copy to make sure everything looks right in print. Wizard World Chicago is only a month away, which doesn't give me enough time to get the proof, review it, and order stock in time for the show. So Nowhere #1 won't be available at that show.
Nakama Toys is fully armed and operational.
and that was clever 'cause it was a Star Wars reference. After a long day of building furniture, putting up shelves, and bringing in stock, Bryan and Mary's little palace of pleasure and pain had a massively successful grand opening. I never want to install another set of shelves ever again.
I think that's everything. I don't have a clever outro so I'm just going to mash the keyboard again. That was fun. ;lkajsdf;oiasd;lknas;ldhfwe'as;d
-jsb