One of the weird balances I'm constantly fighting to maintain falls between doing shit and writing about the shit I'm doing. Often I find myself without time to write about the shit I'm doing because I've been busy doing so much shit. The point I'm trying to make here is: shit.
Nakama Toys successfully brought Kaiju Big Battel to Chicago and now we're dead. I'm not part of Nakama Toys in any official capacity; I'm more of a third-party, a friend of the crew. My job description mostly involves asking Bryan, "What do you need me to do?" and then doing that. That may involve taking tickets and sweeping up, it may involve designing the poster for the event, or it may involve partying as hard as one can while wearing a giant squid monster costume that affords zero visibility. What I'm trying to say is it was an honor to be involved.
Here's a photo (credit: Trish Feldkamp). If you want to see more, our homegirl and secret assassin J-Net Castro has been uploading videos of the show to
the Nakama Toys Facebook page
. Check 'em out.
Oh yeah, when he's not running Nakama Toys, Bryan moonlights as a giant monster referee.
In non-Kaiju-related Nakama news, the Nakama Toys crew have officially found a physical storefront location and are currently prepping for the grand opening. I'm helping with some basic construction, (flooring, painting, etc.), designing the signage, and drinking hard liquor. The goal is to be fully operational by mid-July-ish and then you can bring your (actual) ass to an (actual) store and get (figuratively) punched in your (actual) face by a (figurative) fist of pure awesome. And then you can buy some toys.
Elsewhere...
SpringCon was great. I'm normally used to doing much larger shows, so to be able to do something a bit more intimate and chill was a nice change of pace. Plus they gave us free food and I got to spend two 6-hour drives bullshitting with Jon Lennon about indie comics.
My next show is Wizard World Chicago in August, which just happens to be my birthday. Here's a poster: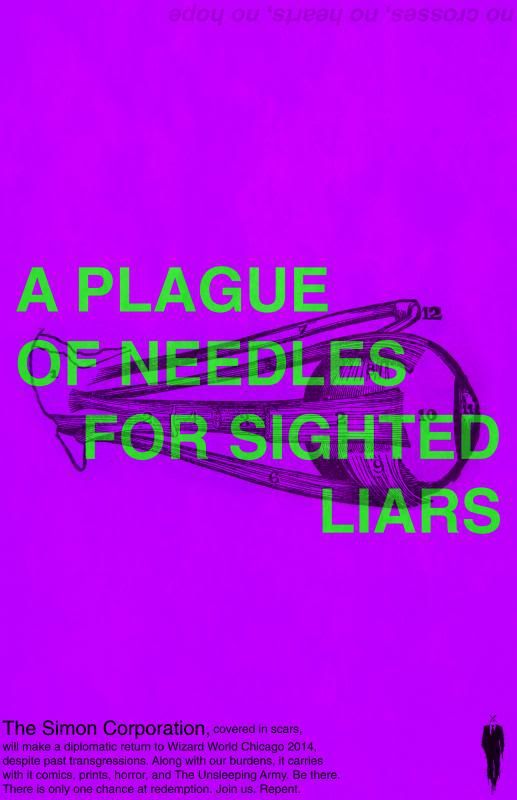 Truth be told, I was unsure about doing Wizard again this year. Last year's show wasn't exactly run well and all the artists suffered for it. Since then, every time I've met up with anyone from the indie comic crew there's been a lot of, "Soooo are we really gonna do this again?" We've all decided to give it another shot and hope some changes have taken place on the convention's end. This year, I'll be sharing a table with my boy Angel Onofre; so on top of coming by and checking out our collective works, you can also watch in silent horror as Angel and I - over the course of the weekend - slowly merge into a single, terrible life form.
I'll let you decide who's who in this analogy.
I should have a few other shows coming up as well, but nothing's official. Stay tuned.
IT LOOKS BACK is done. The first print run of the final issue is in the mail and now I'm working on a new book. The script is done and I've got a couple of pages drawn, but I'm not ready to make an official announcement yet. I don't know why, but I don't like to announce books until I have at least several pages and a cover complete, and I still haven't figured out the cover yet. Once that's done, I'll make a more formal post.
I'm trying something a little different visually in this book. While Wayward and IT LOOKS BACK was a lot of black on rust textures, I'm trying to do something a bit cleaner for this new book. It's still horror, but just a more colorful horror. But that's all I can say for now. Here's some pages: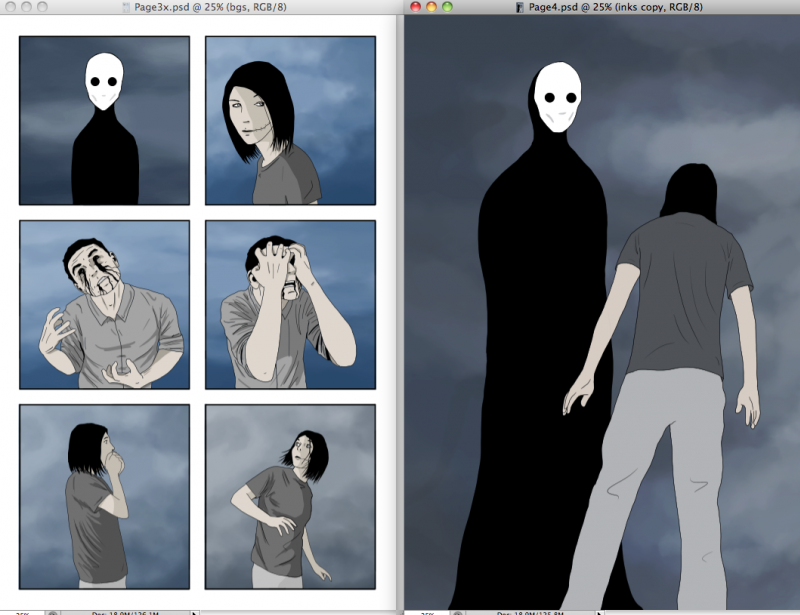 -jsb