This will be in every post forever.
First off, let me say this: I love my crew. They're awesome. Nicole, JR, Bry, Mary, Devo, Minh, Ted Danson, etc. are the coolest people ever. We all have interests that keep us all unique but joined in various ways; vinyl toys, Power Rangers, video games, literature, coke-fueled rampages...the list goes on. But while they all have a genuine interest in - and are beyond supportive of my efforts, I am the only one in our group that has made the decision to spend my nights and early mornings drawing and painting my various stupid horrors.
That's why one of my favorite aspects of comic conventions is hanging out with writers and illustrators who have made the same terrible life decisions I have. My crew understand what I do, but these guys - with their own tables and their own books and prints and goals - truly
get
it. Here's a little bit of insider trivia: every night of a convention, after the show has closed down, all the independent artists all gather in a small room. There, we embrace each other as we sob hysterically.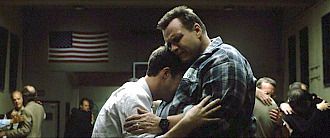 "They don't care about my book. They just want me to draw Deadpool over and over!"
Here are some of the awesome guys I got to hang out with:
Jon Michael Lennon from Cheese Lord Comics
: I picked up a copy of his book Product of Society, a collection of shorts by different artists and writers. I really dig the variety and experimentation. I never thought about collected-shorts-style comics before, but now it's something I'm extremely interested in.
John Hoban makes a book called Apocalypse City
. When I read the first issue, I initially thought it was going to follow the exploits of a single primary protagonist, but about halfway though, the scope pulls back and I realized the story was much more complex, following a number of characters and factions throughout the titular City. I'm curious to see where issue #2 goes when it comes out.
This was RavenJ's first year behind a table with his book Cell Phones and Cigarettes
. It's a collection of shorts like Product of Society, but they're all produced by RavenJ.
I hope you enjoyed your first con RavenJ. It's hell, but it's
our
hell dammit.
So yeah, check these guys out online and keep an eye out for them at the next show. In the meantime, I'll probably be harassing them on Facebook. Sexually.