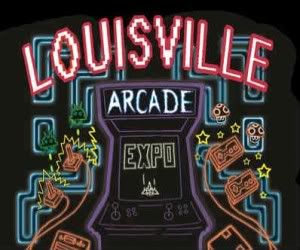 The second Louisville Arcade Expo has come and went, and I have returned safely to my
McDonald's dumpster
lair in Chicago. As I said before, I was there to help out Bryan at
Nakama Toys
and Devo was there with his own table. While Bryan and Devo have helped me out at conventions before, this was their first time behind their own tables. And as the show ended, they both fell to their knees and began to savagely claw their own eyes out, screaming about finally understanding the eternal nothingness that is existence. I simply sat back and smiled, the empty sockets where my eyes once were scarred over long, long ago.
Aside from that bit, the whole shebang went well. We got to pimp out Nakama all weekend, see some familiar con regulars ('sup Adam), see Mega Ran do his thing live, and check out some awesome old skool games. Everyone seemed to really dig the print I did for the Marvel Vs. Capcom 2 tournament, so I'm going to try to do a tournament piece for this show every year from here on out. You can read a quick article about the MvC2 tournament, with pictures of me presenting the print to the winner and looking like a complete tool
here
.
And before I forget, many many props to Trish for letting us crash at her place all weekend.
My next convention is C2E2 and it only a month away. Holy shit.
-jsb