In about a week or so, some of my work will be featured in a goth-erotic gallery. Now if you're thinking, "
But jsb; you magnificent specimen of manliness, you don't do erotic art. What are you doing at an erotic gallery
?" then we're on the same page. In the time I've spent doing this illustration thing, I've only done one erotica piece. This one:
Wúnder Erotica
To figure how how this came to pass, we have to go waaaaaaay back to about a month ago at Wizard World Chicago. I was approached by a lady who runs
The 1901
, a local gallery/theatre. She liked my stuff and hit me up on Facebook later asking if I would be interested in including my stuff in a local goth gallery. It made sense to me, as most of my non-chubby-superhero work is firmly planted in spooky territory. No mention of an erotic theme is made at this point.
I've never done a gallery before, so I had some questions about what was needed of me if I decided to do it, so about a week ago, we went to The 1901 to check it out. We spoke with the owner for a while about how it works and I left brainstorming prep work. No mention was made of erotica, this was just a goth show.
Earlier today, I received a Facebook invitation to the event with the following flyer: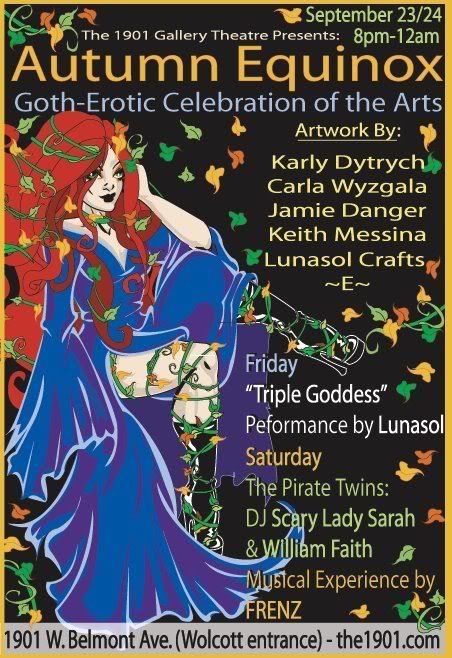 Fun fact about me: I'm a worst-case scenario kinda guy. So the moment I saw the word "erotic", the inside of my head looked exactly like this:
As I said before, this is my first gallery, and my biggest concern is my work not meshing well with the show. So now I'm imagining a wall of serious, Giger-esque nudes, my silly Bride of Frankenstein, and more serious Giger-esque nudes.
Then I checked out some of the other artist's work and calmed the fuck down. It looks like the show is going to be a well-rounded mix of themes and styles. If you're in the Chicago area, you should check it out. Along with everyone else's work, my Orphans and Bump in the Night prints will be on display and available for purchase. There will also be music, some djs, chainsaw-juggling, and punch and pie*.
The show is next weekend, September 23rd and 24th. You can get more info at
The 1901's website
.
-jsb
*Chainsaw-juggling and punch and pie not guaranteed.