Spent the 4th of July weekend in Indiana, experiencing firsthand the beauty of My Fellow Americans demonstrating their pride in this wonderful country blowing up gasoline-soaked fireworks and watching hardcore porn with The Salem Crew. The Salem Crew can be described quite simply; epic and violently homoerotic. I was up till about 4 in the morning, and I had a little bit to drink, so my recollection of the events probably aren't as vivid as they could be, but fortunately the night was documented and is currently stored on Martin's Facebook.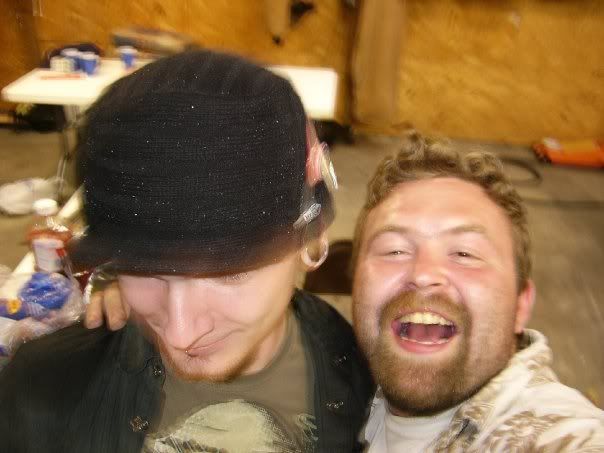 This is the only image that doesn't have me in a compromising position with another dude.
Notable moments from the night include:

-Arriving at Martin's to be greeted by a row of pale white asses.
-Pety conducting a very scientific experiment involving gasoline, gasoline-soaked fireworks, and fire. It is a very educational experiment and you should try it at home. With your children.
-Discussing an awesome comic idea with Martin.
-Convention planning with Brodie.
-Discovering the horror of an alcoholic soda-based concoction known as "Dr. Comfort".
-Realizing more people were interested in Wayward than I had originally thought.
-Watching porn. Not just porn though, but horror-spoof porn. Thanks Tiffanie.
-Somehow not getting killed or dismembered.

God bless America. I swear I'm not gay.
[Meanwhile, back at The Simon Corporation]

I tried, but it doesn't look like I'm going to have my shit ready for a table at Wizard World Chicago this year. Wayward 2 is done, but due to both cash and time issues, there's no way going to be able to get enough books printed in time, and I don't see the point in getting a table when I've only got Wayward 1 available. But there are plenty other conventions coming up, so I expect to be out pimping my swill sooner than later. I'll still be at Wizard though, just not at a table.

Against my better judgement, I'm currently working on a Dick Handsome: Paranormal Gynecologist short story. Mainly, it's an experiment to see how plausible it would be to compose stories on my phone, but I'll probably end up posting it here when I'm done. As for the experiment, it seems that - now that both landscape orientation and copy/paste are (finally) available - word composition on the iPhone isn't as painstaking as I initially thought. Obviously, it's not as good as a full-sized keyboard with actual buttons, and it is completely primitive compared to writing with my Brainfucker Mind Probe, but it works pretty good for writing on the go.

My first Dick Handsome story, Dick Handsome: Paranormal Gynecologist vs. The Cannibal Crotch of Cancun, will be posted soon. I apologize in advance.
[Props]

Tomorrow (well today now, considering it's 12:30 AM now) is Nicole's birthday. I was going to get her a rocket-powered Cadilac with an automatic cake dispenser installed, but unfortunately The Awesome Store was out of stock, so I got her some Uglydolls instead.

If you get a chance and have the means of contacting her, drop her a line and send her warm birthday wishes and gratuitous large cash prizes.